NEW YORK (Reuters) - "Superman" actor Christopher Reeve, paralysed when he fell from a horse nine years ago, has died in a New York hospital of heart failure, his publicist says.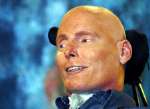 Reeve, 52, went into a coma on Saturday when he suffered a heart attack during treatment for an infected pressure wound and died in Northern Westchester Hospital on Sunday afternoon without regaining consciousness, publicist Wesley Combs told reporters on Monday.
Reeve's wife Dana issued a statement thanking "the millions of fans around the world who have supported and loved my husband over the years."
Reeve, confined to a wheelchair since his riding accident in 1995, had in recent years campaigned for the rights of the disabled and for stepped-up research into the treatment of spinal cord injuries.
Reeve's family asked that donations be made in his honour to the Christopher Reeve Paralysis Foundation, formed in 1999 to boost collaboration between experts working on treatments for spinal cord damage.
An accomplished rider who owned several horses, Reeve suffered multiple injuries including two shattered neck vertebrae when he was thrown from his horse at an equestrian event in Commonwealth Park in Virginia.
Doctors initially predicted that he would never have any feeling or movement below his head. But his foundation's website, www.ChristopherReeve.org, said he had experienced a degree of recovery that his doctors considered "remarkable".
BORN IN NEW YORK
Born on September 25, 1952, in New York City, where he continued to live as an adult, Reeve was a prototypical handsome leading man on stage and screen.
The son of an English professor and his journalist wife, Reeve attended the Julliard school in New York City and graduated from Cornell University in Ithaca, New York.
He began his acting career in summer stock and appeared on the television soap opera "Love of Life" while still in college.
Reeve debuted on Broadway in "A Matter of Gravity" in 1976, playing Katharine Hepburn's grandson, and later starred in Lanford Wilson's "Fifth of July," in which he portrayed embittered Kenneth Talley, a gay, crippled Vietnam War vet.
Despite his theatre credentials and work on television, Reeve is best known as the hero of the "Superman" films.
He was a virtual unknown when he was chosen from 200 candidates to become the big screen's incarnation of 1978's "Superman," in which he played fumbling Clark Kent who at will turns into the flying superhero.
In 1993 he appeared in the Merchant and Ivory hit "The Remains of the Day," which was filmed in the English countryside.
But even there, it was hard to shrug off his superhero image.
"It is very strange to walk into the House and Hound, some pub from the 15th century in the middle of Wiltshire someplace, then -- 'Aye, it's Superman, here he comes!'" he said in an 1993 interview on Cable News Network.
Earlier movies include "Gray Lady Down," "Somewhere in Time," "Switching Channels," "The Bostonians" and "Deathtrap."
Reeve and his wife Dana had one son, Will, now 12, and he had two children from a previous relationship -- Matthew, 25, and Alexandra, 21.