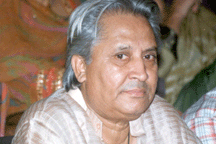 LAHORE: Faisal Bobby is following in the 'musical' footsteps of his late father, top composer Amjad Bobby. He is presently working on an album five songs of which have been penned by well-renowned poet Riaz ur Rehman Saghar and the remaining seven borrowed from Qateel Shafai's 'diwan'.
In a meeting with The Nation, Faisal revealed that his album carried "all kinds of songs…fast, slow, folk, bhangra and others."
Faisal added that the album would be released in three months' time. The video of three songs will be made which will be released on different TV channels.
He said that eight songs from the album had been composed by Moeen Bobby, the younger brother of (late) Amjad Bobby, while Faisal composed four songs himself.
Faisal said that after the death of his father he had decided to carry forward "the mission of my father, because he wanted to see me as a singer. After his death I feel I am obliged to also continue as a singer.
"Whatever I have learnt it's because of my father. He was a very affectionate and loving father. He would do 'riyaaz' and push me to practise it strictly."
Faisal revealed that he had assisted his father in the compositions of 'Yeh Dil Aapka Huwa', 'Tere Pyar Mein', 'Kabhi Pyar Na Karna', Shahzad Gul's next film 'Imaan' and also Javed Sheikh's in-the-works 'Khuley Aasman Key Neechey'.
He was with his father during the latter's tours of India, because the music of all of the above-mentioned films was recorded in India.
Faisal said that his father was like a friend to him, "I would spend more time with his father than my friends."
Faisal said that in order to fulfil the mission of his father, he was giving priority to singing for the present but given a chance to compose for films, he will definitely go ahead.
Faisal disclosed that three of his songs were already going on air on Sunrise Radio UK and also on Norway Radio.
He said that he had got a number of unfinished compositions of his father that he was willing to sell to interested people.
Faisal said that when his father was composing a song in his voice for Javed Raza's underproduction, 'Kabhi Pyar Na Karna' in Mumbai's Empire Studio, Lata Mangeshkar came there especially to look them up.
"When Lataji heard me sing, she inquired about me. My father told her that I was his son. She appreciated my voice very much and gave a pat on my back and wished me a great future ahead. She also complained to my father about not having used her voice in the films."
Faisal also revealed that a number of Bollywood directors and producers, including Feroz Khan, had offered his father to compose for their films and settle permanently in India, "but my father always told them that Pakistan was his country and he would live and die in Pakistan".
He added that Kavita Krishnamurti had even offered a bungalow to his father in Bangalore, which is the native city of the renowned Indian singer, and asked him to compose for her but Amjad Bobby refused all offers.
Faisal also quoted Reema who had once said, "Amjad Bobby has given me a gift in the shape of my film 'Koi Tujh Sa Kahan's songs which proved a blockbuster. I will always remember Bobby saheb."