jason statham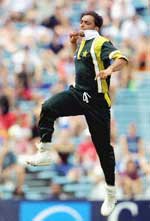 Age: 120
Total Posts: 2999
Points: 0
Location:
Pakistan, Pakistan
The Indian press has crowned her the Aishwarya Rai of Pakistan - after Bollywood's most successful female star.




A household name in Pakistan after having acted in nearly 200 films, Reema is visiting the western Indian city of Bombay - home to India's famously prolific film industry. At parties thrown in her honour by Indian film legends, Reema says she brings a message of peace from across the border.




"People in both countries want peace,and I bring this message with me to further better relations between the two countries."




It is a hope echoed by those she has met in Bombay (Mumbai).




"They all want Indian artists to work in Pakistan and Pakistani artists to work in India," says Reema.




Reema's reputation was built in the city of Lahore - home to Pakistan's answer to Bollywood, Lollywood. She says her visit to Bombay was prompted by the recent thaw in relations between her country and India. But she charmingly turns down cliched roles in the more improbable love stories featuring Indian boys and Pakistani girls.




"How many times will you do the same story?" she asks, as producers and directors entreat her to play a part in their latest ventures. Reema believes artistes in the two countries can help bring the two countries closer.




Accompanying her in Bombay are the producer, Mohammed Shoaib Alam, the veteran director and actor, Rangeela, and the classical singer, Ustad Rafaqat Ali Khan.




"I think technically Bollywood is better, but despite being much smaller, there is no dearth of talent in Lollywood,"




Asked about fellow Pakistani actresses who failed to make it big in Bollywood, Reema suggests they may not have been good enough all-rounders. While some were good actresses, they couldn't dance, while others who could sway to the tunes were not fine enough performers. But she is confident she will make it.




She has certainly been busy enough in Bombay, passing time with countless big names - Rakesh Roshan and his son, Hrithik, as well as producers Ramesh Sippy, Bharat Shah, Jeetendra and Sawan Kumar. Asked which Bollywood actors she would most like to have worked with, the answer, predictably enough, was vintage screen idols Amitabh Bachchan and Dilip Kumar.




"I am overwhelmed by the love and affection showered on me by the Indians, the media and the film industry

guys! i'd say, she is not so pretty as to be either compared with aish..aish got real command on her acting, while about reema, one cant say anything appreciable, for sure, may be cuz of the reason that she has never been provided with the oppurtunity, to act pronouncely.. though, she is famous among paki people, but we can't see her so elevated as aish is, no way!
Hope for the paki industry to release watchable movies, if they work in joint-venture with Bollywood..
it needs Reema to be performed under Bollywood directors, so that she could reveal her qualitites, we can strike a comparison, thereupon...CHEERS :-
Amour.