MR NICE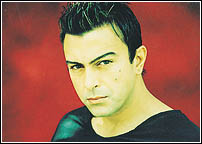 Age: 122
Total Posts: 1124
Points: 0
Location:
United Kingdom, United Kingdom
Singer Humara Arshad and Ahmed Butt who recently have bought a new house in Defence and after the success of Salakhain Ahmed Butt has hiked his price to 15 lakhs per film. Amazingly Shaan the highest paid actor in Lollywood only get 10 lakhs. Laghta hai Ahmed Butt ka damak karaab ho gai hai.

Asma Lata who found fame as a playback singer through "khoye ho tum kahan" has married an Indian Hindu and has decided to live in Bharat and has applied for Indian nationality and has given a statement that artists don't get any respect in Pakistan and artists have no safety and no future in Pakistan.

Its just not Asma Lata but even Meera and Veena Malik have made similiar comments on their recent trips to India. The government is pretty chessed off with the whole scenerio.

I agree that in our country singers and actors have never been given any respect because even today acting and singing is still considered taboo in our society and is not considered a respectable proffession.

What makes me angry why have the hell have these stars gone to India and made a total joke out of Pakistan.

Momi, who's Indian film Dobara is getting released in the next few weeks has had his name and his clips removed from the posters and trailors. The reason being that the director of the film wanted to release the film in Pakistan but our government did not give the go ahead so the director has taken this step. Why should Momi be blamed.

It yet again shows one should never trust the Indians and they are not interested at all in our stars and the only thing they want is Indian films to be released in Pakistan. All this dosti and friendship, kiya bukwaas. Momi yaar ab to samjo.


Sangeeta who recently closed the camera on her latest filck "Dashatgard" and is fast completing "Washi Hasina" will be going to Dubai soon to shoot for two new films "Mustafa" and "Ishq hai nasha nasha".

Model Makkal and Zara Shiekh who have been going out for the last couple of years have decided to get married at the end of the year.

The dubbing of Mubbashar Luqman's Pehla Pehla pyar is complete and the film is ready for a eid release. According to studio reports the film is pretty impressive.

I will post more stuff when I get hold of it.