jason statham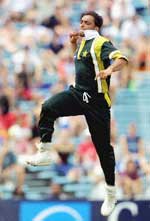 Age: 123
Total Posts: 2999
Points: 0
Location:
Pakistan, Pakistan
Finally we have veteran hero Nadeem's son Faisal following in the illustrious footsteps of his legendary father.



A couple of years back too there had been rumours that Lollywood was wooing the handsome lad. But nothing came off it at the time. Now we have it from very reliable sources that Faisal has been plucked up for a prestigious mega silver screen project being produced by Sohail Butt.

Apart from launching the career of Faisal in the movies as a leading man, the film would also be a cornerstone for father Nadeem as he would be sitting in the director's chair and calling the shots from the behind the camera. Of course the leading lady would also be a newcomer for which they are looking around for a pretty and talented face.

But it isn't the first time that Faisal would be facing the camera. Apparently the lad has quietly worked on a telly serial, picking the up the ropes of the bizz and thereby is not really a novice.

Nadeem has been going out of his way to convey that his son's selection as the hero had nothing to do with him and that it was the producer, who adamantly wanted him as the leading man. We believe you sir, we honestly do!