MR NICE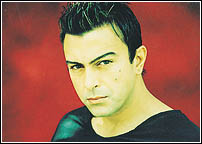 Age: 123
Total Posts: 1124
Points: 0
Location:
United Kingdom, United Kingdom
Ghafoor Butt announces Indo-Pak Punjabi film

Well-known promoter and film producer, Ghafoor Butt is all set to launch his first Punjabi feature film, titled Yaar Dost, which will be "an international project, with stars from India as well as Pakistan."

Ghafoor Butt announced that the film, which will also be directed by him, "will be shot in India entirely."
In reply to a query, he said that the film was being made under the banner of a Norwegian company, 'Prime Films International', therefore he saw no problem of work permit for stars on either side of the Indo-Pak border.

Ghafoor Butt declared that film was a very familiar territory to him, as he had been variously producing films since the year '66. His most popular hit remains Baarish to date.

Yaar Dost is said to star Saud and Ghafoor Butt himself, whereas veteran actor Dharmendra has been roped in to play an important role along side singer Hans Raj Hans.
The film will also launch Ghafoor Butt's son, Shehzad Ghafoor. The girl who will perform the lead opposite Shehzad is yet to be finalised. But, one thing is final, she will be from Pakistan.

The press conference was held at the residence of renowned poet and lyricist, Khawaja Pervez, who will write (predictably enough) the lyrics as well as story and dialogues of the film. He will also make his debut as associate director.

The music of the film is composed by Bobby Wazir, the talented son of maestro, Wazir Afzal.

According to Ghafoor Butt, the music tracks of Yaar Dost will be recorded in Pakistan, while the vocals will be given by Bollywood's top-league singers.

"There's a big market for this kind of films abroad, which we haven't explored yet. India is ruling the roost, because it has no competition. Hopefully, Yaar Dost will do the needful for the Pakistan film industry."