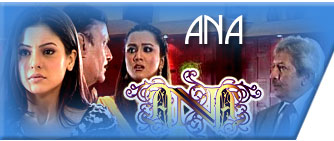 Written by Seema Ghazal
Directed by S.Suleman
Produced by Humuyun Saeed & Abdullah Kadwani
Cast
Talat Hussain, Humuyun Saeed, Samina Peerzada, Aijaz Aslam, Shezad
Nawaz, Javeria Jaleel, Javeria Abbasi, Munnawar Saeed, Ahsan Khan,
Parween Akber, Sheroze Subzwari.
Amna Sharif Kashish Nausheen Ali Sardar Kkusum, Konika
Sadanand, Praksh*t Shani, Sheela Sharma.
When the ego of one person overshadows the lives of his family, the consequences he has to face are devastating. Agha Jalal is a self-made business tycoon, while his wife Fakhira comes from a middle class family. He had a tough early life as he lost his mother in a tragic family feud, which involved his father and his brother. Although he regains his inherited wealth from the ashes of his family feud but the scars on his on persona is long. This has detached him emotionally from his family; he loves them but cannot express it.
From his marriage he has two sons and two daughters, two of his elder offspring Sanawar, and Alvera, try their best to please their father. What Agha ji proposes it has to be done? In doing so they both get married as deemed by their father, but these marriages are utter failures. Sanawar fails get the woman he loves as his father ties his destiny with his best friend Azeem's daughter, Madiha. Both the father and the daughter were never ready for this arrangement.
While Alvera's husband Rameen is a womanizer and has drinking problem. She becomes a doctor as per her father's will yet this is not her choice for a career. Her husband makes her life a living hell, when he dies in an accident; he leaves even more troubles for her as she finds that there is a dancer Megha, pregnant with Farhad's child. There is yet more trouble as Megha's mother creates hurdles in their lives.
Agha Jalal's younger daughter Asma meets a tragic fate as she unable to come to the expectations of his father she takes her own life. This jolts Agha Jalal totally and his wife Fakhira is the sole support he has. When he is diagnosed with cancer he finds that all his children are more than happy to see him leave their lives forever. Ironically the youngest son Dilawar rebels against his father and enjoys when his father is self esteem comes tumbling down. The culmination of this serial sees him lonely, stranded, all by himself. His "ANA" the source of his downfall, the reason for breakdown of family relationships, the cause of all misery.