jason statham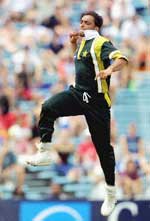 Age: 123
Total Posts: 2999
Points: 0
Location:
Pakistan, Pakistan
Pakistani actress Meera claims receiving life-threatening calls from a Pakistani religious organization for her work in Soni Razdan's film Nazar. Meera, who is starring in Nazar with Asmit Patel, refused to name the organization fearing safety reasons. Certain film scenes of Meera smooching Ashmit Patel were circulated during the Kara film festival in December last year.

"I began receiving threatening calls after that from a man named Sher Khan, who would abuse me and told me that he had issued a fatwa against me in Pakistan and that if I go back there he will have me killed," she says.

The reason she states for the threatening calls is that the organisation doesn't want her to work in India, "they asked me how could you kiss a Hindu?" she says. Meera is a popular actress in Pakistan and is making her debut in Bollywood with Nazar. According to her she did not raise this issue earlier as she was afraid that film producers might avoid working with her. Now tired of shuttling between Mumbai, Dubai and London the actress is home sick and needs to go back to Pakistan. Meera has repeatedly asked for a re shoot of the sequence the Bhatts have refused to comply.