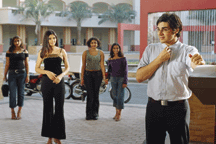 Departing from action movies Lollywood directors are now turning to love stories to lure the viewers back to cinemas. Most of the films in pipeline including Mubasher Lucman's 'Pehla Pehla Pyar', Jawed Sheikh's 'Khulay Aasman Kay Nichay' and Reema's 'Koi Tujh Sa Kahan' are all love stories. Imran Malik is making his debut as director with romantic comedy 'Tere Bin Jiya Na Jaye' due for release this Friday.
Like some other new directors Imran Malik is playing one of the lead roles in his film, which also has Nadeem Baig, Ahsan Khan, Zara Sheikh, Sherry and Hanif Raja in the cast. Zara will play the female lead opposite Imran, who has also penned the story and screenplay. Ali Sufian Afaqi has written the dialogues. Irfan Malik is the producer. M Arshad is the music director while the playbacks include Bollywood singers Shan, Sonu Nigham and Sadhana. The music mastered in Mumbai is pleasing. One of the songs played at the recently held Pakistan National Film Awards 'Paagil na tha' was appreciated by the film industry personalities.
Talking to The Nation Plus on Tuesday Ahsan said 'Tere Bin Jiya Na Jaye' may help establish the trend of love stories doing better than action flicks. "It is a light comedy and not the typical formula film. I believe the era of crude action movies is over. People want to relax and watch light films.
"This film has been shot at visually perfect locations in Pakistan and Dubai. I believe the viewers will like this film that just tries to make you laugh or smile," he said.
Model Sherry, who has been in the showbiz for the last three years, is making her debut on the silver screen. She plays the second female lead opposite Ahsan. Star of TV plays 'Khali Ghar Aur Sapnay', 'Singhar' and 'Doorian' Sherry is visibly excited about the film. "At first I was reluctant to act in the film but Ahsan and Faisal Bokhari convinced me to take up the project. My experience of acting in this film has been good. After seeing the results I think I made a good decision," she said.