MR NICE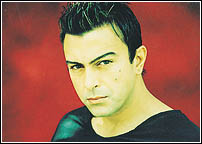 Age: 123
Total Posts: 1124
Points: 0
Location:
United Kingdom, United Kingdom

Gearing up for shoot in Jalalabad

A number of new directors equipped with new ideas have come up on the scene. Raja Riaz, who penned super hit film 'Teray Pyar Mein' is making a love story 'Dil Say Dil Tak' that also depicts the last days of Taleban in Afghanistan. The shooting except for the filming of some songs in Pakistan is complete while the crew and cast will be moving to Jalalabad in Afghanistan by the end of this month for a 10-day spell.

The film 'Dil Say Dil Tak' being produced by UK-based Raja Tariq will have the windup scenes filmed in Afghanistan. Raja Riaz, who has been associated with the film industry since 1989 when he was in Manila, talking to The Nation Plus on Thursday said that Afghanistan government has okayed the shooting schedule. "We will go to Jalalabad with a 70-member crew and cast. A number of locals have also been engaged to act in the film. A whole Afghan village will be built up for filming the scenes. The impact of American carpet bombing on the village will be shown as well as the chaos created by warlords and Taleban.
"Periee De Guzman, action coordinator and explosive expert, is coming over from Manila. We will be using original firearms like AK 47 but of course with fake bullets. Some vehicles have been specially designed for action scenes," said Raja who has also written the script. He said that special filters for cameras each costing Rs 64,000 have been imported to film scenes in a dusty environment.

Besides the scenes in Lahore and Jalalabad, the film will also be shot in Abbottabad, Muzaffarabad and Chitral.

The cast of the film includes newcomer Saahil Khan (playing the male lead), Nisha, Shamyl Khan, Haider Sultan, Farooq Zamir, Samina Butt, Muskaan, Sabra Sultana, Sabeena and Kaiser. Ali Afzal is the music director while Riazur Rehman Sagar and Zafar Seemab have written the lyrics. The music has been mastered in Mumbai and the playbacks include Kumar Sanu, Abhijeet, Pamela Jain, Jasbinder Narola and Micky Narola.

Cinematography is being taken care of by Nabi Ahmed and Ali Jan while Beena Amjad has designed the dresses.
Meanwhile Raja has also announced his next film project. "We are going to make a Punjabi flick 'Do Galaan Pyar Diyan'.

This film will be shot in Lahore and Indian Punjab. The lyrics have been written and the songs are being composed these days," he said.