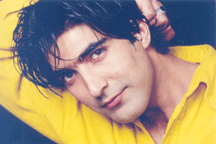 Reward and Punishment for Shamyl
The Count of Monte Cristo remains one of the most entertaining novels in the world. This story has been taken up many a time as the subject for feature films. The latest attempt to present the enchanting story has been made by a Dubai-based businessman Majeed Abdul Razzak, who is producing a film 'Reward and Punishment' based on the novel of Alexandre Dumas.
The movie, to be dubbed in three languages - Urdu, Arabic and Persian - has been shot in UAE while some of its songs will be filmed in Pakistan. Shamyl Khan, who shot to fame by acting in Syed Noor's two flicks 'Larki Punjaban' and 'Qaidi 786', is playing the male lead in the film, which also features Arbaz Khan, Faisal Rehman, Saleem Sheikh, Veena Malik, Maria Wasti, model Imran and Mona Lisa. Maria and Mona are making their silver screen debut with this film. Mona is also acting in Bollywood flick 'Kaafla', which is about human trafficking. While talking to The Nation Plus on Sunday, Shamyl said Arbaz, Faisal and Saleem were playing villains in the film. "I have been paired opposite Mona. It was a wonderful experience working with director Shakir Khan (assistant of Subhash Ghai) from India and his cameraman Harry Khan. The film has been shot on the latest 435 S camera," he said. Aqeel Ruby has written the lyrics, while Bollywood playback singers Shan and Alka Yagnik have sung the songs.
Though 'Larki Punjaban' and 'Qaidi 786' were not big hits, but they put Shamyl in the limelight. He became a popular star and was often seen in top fashion and showbiz events. He, however, was careful in not signing every film project that came his way. This paid dividends as he is getting good projects which can earn him stardom. Shamyl was Syed Noor's find and continues to feature in all his projects. He is playing the male lead in Noor's next film 'Jhoomer' that also has Moamar Rana, Saima and Fareeha Jabeen in the cast.
Shamyl is also acting in film 'Dil say dil tak' of Raja Riaz. "I play the role of an Afghan young man, who makes a lot of sacrifices to start a hospital in Afghanistan. I feature in the final spell of the shooting to take place in Jalalabad," he said.
About the crisis in Lollywood, when films are not doing well at the box office, Shamyl said that positive change is around the corner. "Things will definitely improve in the coming months. A number of new good film projects are in the pipeline and they will definitely help in reviving the industry," he added.