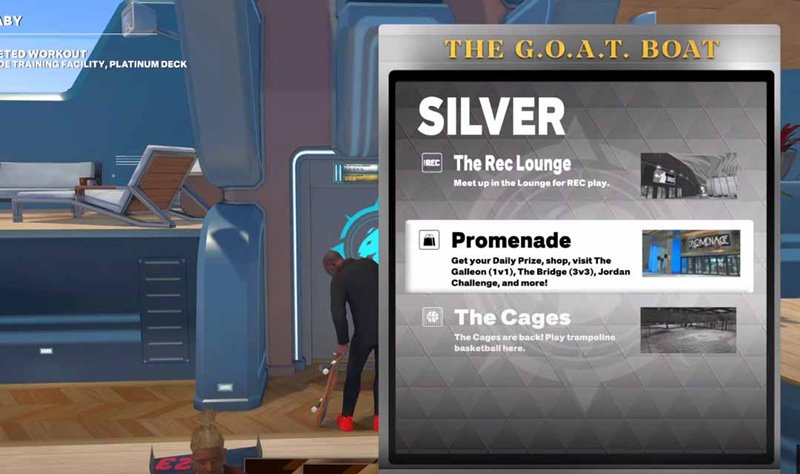 MyCAREER is a game mode that we can't miss after we enter NBA 2K23 because in this mode we can get some free items every day, including various props,
MT 2K23
, and so on. In this mode, players can get free items through the Daily Spin reward mechanism. Here we will introduce the location of Daily Spin in NBA 2K23 so that we can get the rewards in the shortest time.
Where to find Daily Spin in NBA 2K23
Find Daily Spin in The City
Daily Spin in NBA 2K23 can be found in The City. The location of Daily Spin can be found in the city's neighborhoods and will be marked by a specific color statue that corresponds to your community affiliation.
In the next generation of the game, the easiest way to find the location of Daily Spin is to open the map and scroll down to the "Daily Reward" icon, where you can set a path point for it.
Find Daily Spin in The G.O.A.T. Boat
We can also find Daily Spin in The G.O.A.T. Boat in NBA 2K23, where Daily Spin is located on the Promenade floor, which is located on the Silver Deck and has two prize boxes in front and behind the 1v1 Garoon boat. The fastest way to access this floor is to set your spawn location to the Promenade.
How do I use Daily Spin in NBA 2K23?
The way to use Daily Spin in both The City and The G.O.A.T. Boat is the same. Once you find Daily Spin, all you need to do is turn it on, press "X" for PlayStation and "A" for Xbox, and your random bonus will pop up.
One trend you'll notice is that the rewards are very random, and they change when you dig for gold. But, if your access to Daily Spin is consistent enough, you'll only increase the likelihood of getting something great.
Recommended: How To Get Badges Fast In NBA 2K23?