MR NICE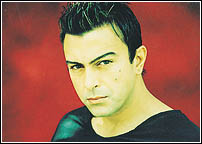 Age: 123
Total Posts: 1124
Points: 0
Location:
United Kingdom, United Kingdom
Pakistani film star Shan is set to act in Indian filmmaker Mahesh Bhatt's upcoming movie.

Bhatt is visiting Pakistan next week to meet Shan. "I have a meeting scheduled with Mahesh Bhatt. I will sort out the terms and conditions," Shan told IANS by phone.

Two Indian films, Mughal-e-Azam and Taj Mahal, are already being screened in Pakistan as part of the emerging cultural ties between the two countries.

Shan said: "It is good to work here and in India. I am a strong supporter of artistes being allowed to move about freely and work together."

Shan said: "Mahesh Bhatt and myself will discuss the script and the role before finalising the deal."

Bhatt will also attend a press conference on Pakistan-India relations.

I feel Shaan is selling himself short by working in a Mahesh Bhatt. If he wants to work in Bollywood he should have gone for a big banner film.

Mahesh Bhatt since visiting Pakistan a number of times in recent years has been very impressed by Shaan's acting. Recently he want to see to Majajan and was even more impressed.

Also Shaan should not trust the Indians completely. I would rather not see Shaan working in Bollywood. In this regard I feel Reema has made the right choice because recently she was again approached by a number of Indian film directors but said no. She wanted to concentrate on her second film as director.

I just hope Shaan makes the right choice.