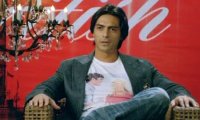 y IndiaFM News Bureau, November 6, 2006 - 04:22 IST
After playing a dynamic role of Jasjit in Don, Arjun Rampal is coming out with his first ever Home Production titled I See You. The film stars Arjun Rampal in the lead role and is presented by K Sera Sera.
The theatrical begins showing Arjun Rampal who plays Raj Jaiswal, a young TV host who keeps flirting with all the women around. In the promo you'll notice that he keeps promising every girl he meets that he'll get married with her but the fact is that he wants to remain bachelor for the rest of his life. He flirts with women everywhere, be it his office or even on the streets. One of the hottie he plays around with is Sophie Chaudary.
But life takes a bizarre turn and Rampal meets a girl who no one can see. It's only Arjun who can see her, touch her and talk to her. The worst part is that no one is ready to believe him. Not even his best pal Chunky Pandey tries to understand him. Now, Arjun goes around talking and dancing with a female who no one else can see and in the course arises number of confusions and crazy situations.
Arjun's friends start thinking that he is stressed out and therefore has started imagining things. Boman Irani, Sonali Kulkarni and Chunky are the people whom he is close to and they suggest him to relax and "Let It Go!" But Arjun has no plans to 'let go' of this new girl that he is obsessed with, even if she is invisible.
The film is being directed by Vivek Agrawal. The film is produced by Arjun's wife, Mehr Rampal, under the banner of Chasing Ganesha Films.
watch the promo here:
http://indiafm.com/features/2006/11/06/1795/index.html