MR NICE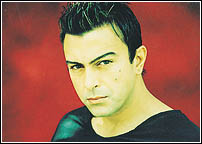 Age: 122
Total Posts: 1124
Points: 0
Location:
United Kingdom, United Kingdom
Humayun Saeed is a household name all over Pakistan. The actor who is known as the Shahrukh Khan of Pakistani TV, has apparently decided to try to change this title to the Shahrukh Khan of Pakistani films. After a long gap from films, Humayun decided to try his luck as a hero in films, signing on Javed Fazil's Main Ek Din Laut Ke Aaoonga. Instep Today spoke to Humayun about his films and his future aspirations.

Known for his boyish good looks and charms, Humayun is undoubtedly a pleasure to talk to. He has an innate ability to put those around him at ease, perhaps this is why speaking to Humayun is difficult; everyone wants to talk to the easy-going star. He is not only a model and actor, but he has also emerged as a producer recently. A talented TV star, he has worked with the who's who of the Pakistani entertainment industry, from Samina Peerzada, Atiqa Odho, Nadeem, to Javed Sheikh. But his work doesn't end here, Humayun is recognized on the other side of the border as well for his work with Indian actresses like Nausheen Ali Sardar and Pooja Kanwal.

Speaking to Instep Today, Humayun Saeed said Main Ek Din Laut Ke Aaonga was an attempt to plant himself into the film industry. While he has previously done two films, Inteha and No Paisa No Problem, he hadn't played a hero till date. He acknowledged that while the film was definitely lacking in certain aspects, he was happy with the overall result of the film, and especially since the film was raking in profits; a reflection of fan appreciation.

Humayun commented on the vast difference in the film scenario in Pakistan and India. He said the sets used in the movie were well designed and more realistic unlike the ones used here conventionally. "Main Ek Din Laut Ke Aaonga had a more refined look and a better finish," he said, adding "if it had been filmed in Pakistan, the end-product would not have been so sophisticated." It must be admitted that in his comparison, Humayun was spot on, when one watches the film, the difference in picture quality is apparent within the first ten minutes. However, Humayun through his comical gestures did acknowledge that he was not 100 per cent happy with the result of Main Ek Din Laut Ke Aaonga. When the script was first brought to him, he did ask to have some things changed, but Javed Fazil convinced him to keep the script as is.

Speaking about his experience, Humayun was very happy with the way the film was made. He had previously worked with Nausheen Ali Sardar in his drama serial Ana, which was aired in both Pakistan and India. Therefore, based on his previous experience, it was no surprise that he enjoyed working with both Nausheen and Pooja in this film. "Both of them are very professional and down-to-earth girls, it's great to work with them."

With Main Ek Din Laut Ke Aaonga doing well at the box office, Humayun is anxiously looking forward to his upcoming two films, Javed Sheikh's Khule Aasman ke Neeche and Shehzad Rafiq's Tere Liye, both of which he feels will be a step above. Speaking specifically about his "pet-project" Tere Liye, a film which he has also invested in, Humayun feels that it will be a winner. The writer for everyone's favourite Dilwale Dulhaniya Le Jayenge is on board for Tere Liye, as well as cameramen from Taal and Pardes. With experts like these working on the film, one hopes that the end result is a few notches above Humayun's recently released film. As for Humayun's attempt to make a name for himself as a hero in the Pakistani film industry, if his performance in Main Ek Din Laut Ke Aaonga is anything to go by, Humayun will definitely go places! Watch out Shaan, Humayun is all set to be the next romantic hero of Pakistani films!