afridi_hasnat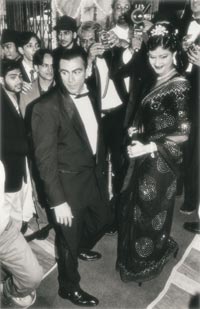 Age: 123
Total Posts: 1187
Points: 0
Location:
,
Well first all of all..pardon me for writing the movie review too late as it has been 2 weeks since i have watched the movie!
Well here is the Review...
Coming to Lahore is an filmi experience,going to Abbot Road and watching a movie in a cinema on it....is a fun experience altogether!
Abbot Road is in Lahore in which there are many main cinemas.They have been very old cinemas like Gulistan,Metropole,Shabistan,Prince,Capital,Odeon out of which Gulistan Cinema is the bestest(because it was renovated when Mughal-e-Azam was released in Pakistan)and tht is where I watched Zilay Shah.I wanted to watch it in DHA Cinema but the film was not at tht time being shown there.
When I reached Gulistan Cinema,i was pleaseantly surprised to see a good amount of crowd for an Monday 4pm show!Although it had been 2 to 3 weeks the film being released!I took the ticket and went inside!The cinema was good,not excellent but most probably better than other Abbot Road Cinemas.The projection and sound system were excellent!
Now to the movie...Its one of the bestest efforts of Shaan!Shaan has potrayed how creative he is and whats it if he gets a good financer and new technology..he can do wonders!And ya the film is simlar to Majajan but there are somethings which makes it different is sum places and most importantly the Climax!
Zilay Shah is a story about Shaan who lives in an family who is highly inspired by Sufism and his father(played by Mustafa Qureshi)is also a great Musanif!!!
Shaan's love interest Noor,who is also madly in love with Shaan.Tragedy occurs and they both couldnt get together comes Saima,a TaWaif!!!Who is now Shaan's love interest!Next u have to watch the movie!
Although the story is predictable at some points but u the overall package is great!Firstly Kudos to Pervaiz Kaleem for writing such great dialouges(I can really tell the greatness of those dialouges because i know a litte bit of Punjabi but wat i understood,i must say he is a great writer).The music is good but music of some of the songs could have been improved because it was soo LOllywood Style but all of the songs were picturised well(Thnx to Shaan and his experience of directing Mobilink videos).Two songs of the film which stand out are Sano Ishq Hua and Piplan Di Chan Way.The both are melodious numbers,Plus they have been picturied really well.The sets are awesom,Cant believe tht these kind of sets were made in our local studios...well done Shaan and his team!Plus the sets looked grand and classy because of one thing...the thing which outstands in all techical aspects of the film...the Lighting!!I was simply amazed to see such an good lighting any any Pakistani Film!Such a great use of shades and lights....marvellous...brilliant..even these words are less how great the lighting was!And the best part is tht it was all done in Pakistan,in Lahore Studios,after watching this why do some of our filmakers go to India for indoor shooting as well!Instead of using there B-Grade sets,why dont invest money here!Back to the Lighting department,shaan has showed his creativity because although the credit should go to the lightmen but Shaan's involvement can be seen in this and many parts of the film(You will see the mobilink's videos wala touch throughout the whole film.)The film was processed by Adlabs India and picture quality of the film was brilliant!It was same as Javed Sheikh's KAKN's picture quality!Altough the picture quality in the promos of the movie look dull and u can notice spots at sum places but in cinema there was no scene like tht!The graphics of the movie should have been made because it would have added an classy touch to the movie!The sound was also great(The movie is DTS).
The acting department:Everyone deserves Full Marks.Shaan and Saima were great as usual.Thanx to the great supporting cast also,Mustafa Quereshi,Deeba,Farah Jabeen,Asif Khan,Shafqat Cheema all were at their best!
Noor makes a guest appearence!She looks beautiful and acts good!
Now to sum negative points...the film's lenght could have been reduced!The film is a way too serious...a bit of comdedy could have been added!

Verdict:Dont expect Zilay Shah to be a complete Art movie.Its an Punjabi films having the message of Sufism wrapped in entertainment.It has soulful scenes with shaan's fighting scenes aswell!But its an rellli good movie for the masses and they are liking it!