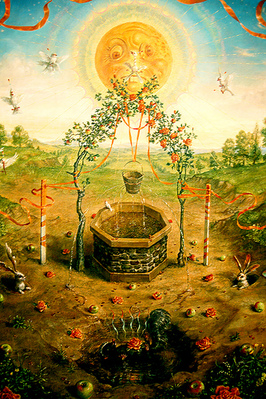 Just a penny a wish I was told,
when I was wee, not very old.
Wishing well upon the hill,
stood there quaint and still.
Made the same wish everyday,
true love would pass my way.
Marry, live happily ever after,
from well, echoes of laughter.
Always heard very same thing,
wishing for that wedding ring.
Wish came true, love arrived,
made me feel so happy, alive.
Before long he went astray,
broke vows of our wedding day.
Back to the well a second time,
now each wish cost a dime.
Took a while, wish came true,
another one said, "I love you".
Off to the alter but not for long,
another he done me wrong song.
Back up the hill, walking slow,
still more laughter from echo.
A dollar a wish,that is absurd,
dumbest thing I ever heard.
I am so tired of wishing for love,
into well, gave my love a shove.
The joke is no longer on me,
well is now quiet as can be.
I stand by the well everyday,
a penny a wish is all you pay.
Wish for true love if you dare,
I warn, let the buyer beware.
If it don't work out, come back,
pay only fifty cents for a sack.
Now that also includes a shove,
into the well for your untrue love.