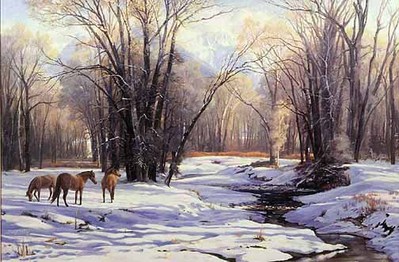 Before the thaw horses wait,
the winter is about to fade.
Soon will quench their thirst,
among the oak tree's shade.
Nary a whisper can be heard,
snow blankets the ground.
In the distance can be heard,
cold northwind's eerie sound.
Morning shadows are dancing,
as the clouds roll overhead.
Sunlight flickering on the lea,
reflects upon the riverbed.
Water trickles through the ice,
flows gently to it's destination.
Soon springtime will reappear,
without fanfare or hesitation.
Hoof prints seen in the meadow,
cast in snow as they gallop along.
The sound of the ice trickling,
anticipates winter's swan song.