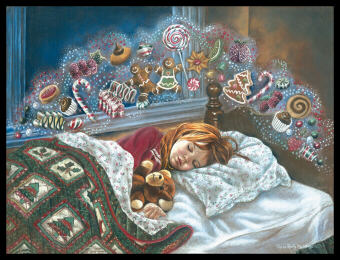 With hush adrift, moon aglow,
listen intently for bell sound.
Soft white, new falling snow,
begins to blanket the ground.
Special evening has arrived,
night time creeping so slow.
Though impatient, I survived,
anticipation begins to grow.
House really creaks at night,
never really noticed it before.
Laying with eyes closed tight,
wind rattles windows and door.
Listened all night, did not hear,
must have fallen fast asleep.
Jingles bells and the reindeer,
came, went with nary a peep.
Christmas morn so full of joy,
wonder what waits for me.
Stocking of goodies and toys,
what will I find neath the tree.