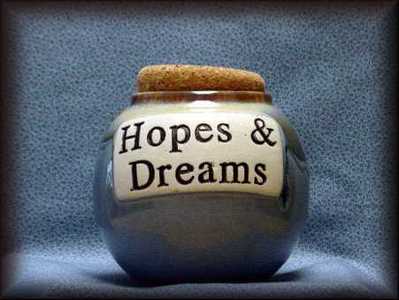 Began dreaming very young,
upon a wall a shelf was hung.
Three glass jars upon the shelf,
for hopes and dreams for myself.
One for wishes never came true,
next one for love shared by two.
My dreams that are yet too be,
will be stored in number three.
Number one is full, it overflows,
each new year comes and goes.
Dreams that never came to be,
many reasons passed by me.
Jar number two has but a few,
three times I thought love true.
Back in the jar two loves went,
the third died, was heaven sent.
Third jar is empty, sits and waits,
I no longer dream, now I hesitate.
Days of dreamingnow seem done,
the third jar would only become.
Overflowing with broken dreams,
just like like jar number one.