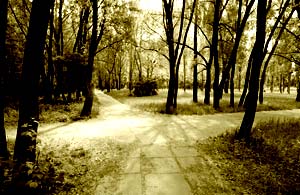 Unwise decisions on roads to no where,
making wrong choices and wrong turns.
Love clouds our vision upon which path,
as we stumble and meet life's concerns.
Lost in dark alleys with no where to go,
lovelight grows dim with passing time.
Search winding path that have no end,
when purpose has no reason or rhyme.
Clouded thoughts as we shuffle along,
no longer sure as the path spirals on.
Minds, like clear nights, become misty,
knowing the right choice is soon gone.
Instinct takes over, see clearly ahead,
visions within our mind break through.
Right path can be seen with blind eyes.
chose and have faith in all that you do.