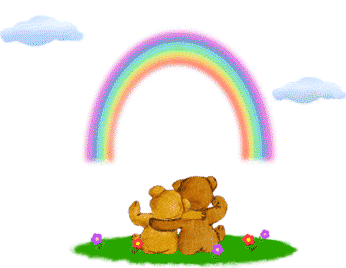 Rainbow of friendship and devotion,
pastels hues each a warm emotion.
Colors of the rainbow will appear,
friendship found and held so dear.
Red for love freely given each day,
brings heart felt joy in many ways.
Orange brings happiness and fun,
illuminating down beneath the sun.
Green signifies how it shall grow,
year after year with love we sow.
Blue are the blessings we share,
faith enlightens beyond compare.
Indigo is strength, binds the heart,
through bad times and while apart.
Violet compassion to understand,
forgiveness in friendship's hand.
Put them together they are for you,
my dear sweet friend I love you.
Time and distance can not erase,
our deep feelings of friendship's
embrace.