~Alien-Looking Places on Earth~
Reply to Topic
~Fragi~
Age: 41
Total Posts: 64603
Points: 0
Location:
Neutral Zone,
Dry Valleys (Antartica)





Antarctica's Dry Valleys, with their barren gravel-strewn floors, are said to be the most similar place on Earth to Mars. Its fascinating landscape, located within Victoria Land west of McMurdo Sound, get almost no snowfall, and except for a few steep rocks they are the only continental part of Antarctica devoid of ice. The terrain looks like something not of this Earth; the valley's floor occasionally contains a perennially frozen lake with ice several meters thick. Under the ice, in the extremely salty water, live mysterious simple organisms, a subject of on-going research.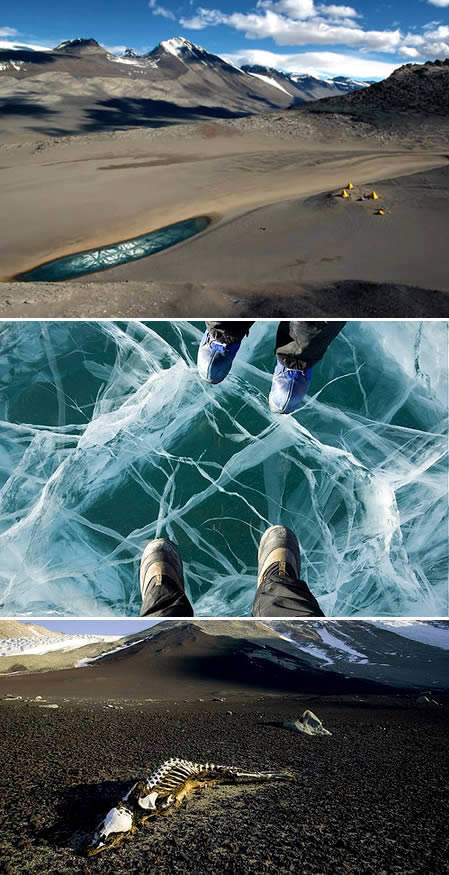 ---
Socotra Island (Indian Ocean)






This island simply blows away any notion about what is considered "normal" for a landscape on Earth, you'd be inclined to think you were transported to another planet - or traveled to another era of Earth's history. Socotra Island, which is part of a group of four islands, has been geographically isolated from mainland Africa for the last 6 or 7 million years. Like the Galapagos Islands, the island is teeming with 700 extremely rare species of flora and fauna, a full 1/3 of which are endemic.

The climate is harsh, hot and dry, and yet - the most amazing plant life thrives there. Situated in the Indian Ocean 250 km from Somalia and 340 km from Yemen, the wide sandy beaches rise to limestone plateaus full of caves (some 7 kilometers in length) and mountains up to 1525 meters high. The trees and plants of this island were preserved thru the long geological isolation, some varieties being 20 million years old.



---
Rio Tinto (Spain)






The giant opencast mines of Rio Tinto create a surreal, almost lunar landscape. Its growth has consumed not only mountains and valleys but even entire villages, whose populations had to be resettled in specially built towns nearby. Named after the river which flows through the region-itself named for the reddish streaks that colour its water-Rio Tinto has become a landscape within a landscape. The river red water is highly acidic (pH 1.7—2.5) and rich in heavy metals.




---
Salar de Uyuni (Bolivia)






Bolivia's Salar de Uyuni is perhaps one of the most spectacular landscapes in the world. A magnificent area with an impressive salt desert (the world's largest), active volcanoes, tall cacti islands and geyser flats, it exists like an alien mirage, something completely out-of-this-world. Oddee's crew went there in July 2008, be sure to check it out.


---
Vale da Lua (Brazil)






Vale da Lua (Moon Valley) is a water eroded rock formation with natural swimming pools, placed on a river in the brazilian cerrado forest. Located at Chapada, 38 km from Alto Paraíso de Goiás, it's rock formations are one of the oldest on the planet, made of quartz with outcrops of crystals. (Photo by: Alex)

---
Blood Pond Hot Spring (Japan)





Blood Pond Hot Spring is one of the "hells" (jigoku) of Beppu, Japan, nine spectacular natural hot springs that are more for viewing rather than bathing. The "blood pond hell" features a pond of hot, red water, colored as such by iron in the waters. It's allegedly the most photogenic of the nine hells. (Photos: L Plater and phototravel).

---
The Stone Forest (China)






The Shilin (Chinese for stone forest) is an impressive example of karst topography. Its rocks are made of limestone and are formed by water percolating the ground's surface and eroding away everything but the pillars. It's known since the Ming Dynasty as the 'First Wonder of the World.'

---
very nice
---
---
Awesome Fragi liked it man
---
---
---
---
Reply to Topic