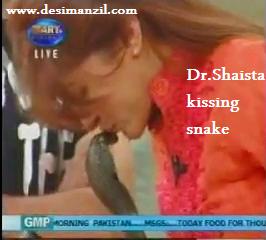 A Deadly Challenge by Waqar Zaka to Dr. Shaista
Will Dr. Shaista become the first female Host in the World to accomplish this Dare?
This event will be broadcasted LIVE in GOOD MORNING PAKISTAN
--> This Tuesday, 9 A.M. to 11 A.M. on ARY DIGITAL! GOOD MORNING PAKISTAN
Waqar Zaka will be answering questions from callers LIVE during the broadcast! All controversial topics will be covered. DO CALL IN BETWEEN THE SHOWTIMES --> FROM 9 - 11 A.M.
And ofcourse, Waqar will than challenge Dr. Shaista to a Deadly Dare - Never attempted by any female host.
The dare will consist of a Cobra (And yes, with venom meaning it will be poisonous). Will she be able to do it?
DO NOT MISS, this one on one interaction between Waqar Zaka and Dr. Shaista! Any interested fans, are encouraged to call and get answers directly from Waqar during the show.
------
All viewers, please note:
Every day from Monday (May 4th) - All episodes will be repeated on THE MUSIK at 11 P.M. from Multan to Lahore. The episodes will run back to back, so you can catch up on any missing parts of the Punjab tour.
Lahore & PUNJAB Grand FINAL will be aired on 14th May - Thursday 8 P.M.
.u can watch this video in youtube