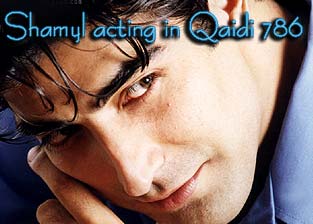 Young and handsome Shamyl who is busy doing dramas, telefilms and films, is very excited about his coming movie 'Qaidi 786'. The movie is based on the issue of sectarian differences in our society.
While talking to this scribe, Shamyl said "Qaidi 786 is about the conflict between Sunni and Shia sects. My role is very strong in the film. I play the role of a Shia youth while Shaan plays a Sunni." It is a very sensitive subject but dealt with care by the writer, he explained.
While revealing a little about the story, he said "Shaan and I are friends in the beginning but the friendship turns into animosity. Minor ideological differences create a wide gulf between the two friends. But the movie ends on a happy note when the two friends unite." He further said that the movie is message oriented and an attempt to end rivalry and differences between different sects.
"Social subjects of this kind can attract people to cinema and set a new trend for other producers and directors to follow," he added.
"My role in the movie will provide me with an ample opportunity to prove my steel as an actor," he said. "Saima Quraishi, who is a newcomer, plays the female lead opposite me. New talent is more interested in doing roles, which will enable them to create their place in the film industry. I hope the movie will prove a breakthrough for me and create lasting impression on the mind of the viewers," he said.