jason statham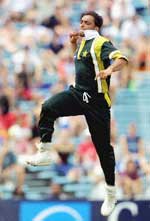 Age: 123
Total Posts: 2999
Points: 0
Location:
Pakistan, Pakistan
It has finally happened. There has been so much talk of Pakistan-India collaboration on the film front, but it has pretty much remained that. Just talk. Finally something has happened.

Firstly, Ali Azmat went to India, gave the song 'Garaj Baras' to Pooja Bhatt for her directorial venture, Paap. He came back with the brilliantly directed music video for the song that is being shown. On a larger scale, media is about industry's collaborating. Like Ketan Mehta's The Rising being shot in two languages with the support of major Hollywood players. However, Pakistan and India have a long way to go before something like this can take place. Sana is also acting in a.movie 'Sitam' along with two newcomers. It's a Bollywood movie and a Dubai based producer. Javed Sheikh is also in Sitam and also working in another movie too. Meera has signed a Mahesh Butt film, she is back in Pakistan but the shootings have not been started yet. Veena is in a Punjabi Movie'Pind di kurdi'. Moamer Rana is playing a role as a guest appearance along with Mahima Chaudary and Raveena Tandon. It is surprising to know that Momi is known as Akshay Kumar of Pakistan in India!

Indeed, Bollywood industry is so vast that if it starts to step in, it will take over. Pakistan's new soft border with India means a lot of possibilities coming up. Frames 2004 was just one of these. The three-day event, held in Mumbai, was the fifth annual convention of the global entertainment business. Organized by FICCI (The Federation of Indian Chambers of Commerce and Industry), the conference brought together 1,300 participants from over 25 countries. For Pakistan, this was a first. Representatives from Pakistan formed the first high-level Pakistani entertainment industry delegation to attend a global convention in 38 years.

Let's see what our Lollywood artists have to say on this collaboration of Lollywood and Bollywood. According to Shaan, his recent visit to India was educative. He further added, "Bollywoodwallas are interested in Pakistan's industry. That's a good sign."

But at the same time if they are taking all the talent from the Pakistani industry then what will be left. It will effect adversely on us. For an example, the Italian industry or the British industry suffered when there talents were interested in foreign offers.

Shaan further added, "Bollywood is offering good money and good roles to our actors. This is good if thought on an individual level, but it will have a bad effect on the national level."

About the Convention Frames 2004, he said that he gained a lot of knowledge regarding entertainment, "Media has a lot of potential. The growth ratio of the media is really good. There were different people from different countries like from Australia, New Zealand, Spain and many more. While giving comments on the collaboration of Lollywood and Bollywood, the government will decide either to show Indian films in Pakistan or not. But in my view we should exchange the technical facilities and production. For example, Devdas earned Rs. 8 crores in one week, and if Pakistan buys it in order to show our viewers, then the government will definitely need a good amount of money. Due to this, it will adversely affect our foreign exchange. He said that two years back, I was offered an Indian film but I asked the government to give me clear policies but no response."

Reema, Lollywood's top-league actress also shared her views. Asking about the Zee Cine Awards, she said that it was a good experience but it was even better at the Bollywood Awards in Atlanta City (America) where she received an award. It was nice to hear that our Pakistani actress was awarded by the Indian film industry. Currently, Reema has not accepted any offers from Bollywood as she always gives first preference to the Pakistani film industry. Her views on the collaboration of both industries are a manifestation of the same. She said, "A collaboration of Bollywood and Lollywood will benefit both of us and it will be even better if artists from both industries work together in a movie. But I will not agree that only Indian movies are shown in Pakistan because that will incur losses to our industry."

In the end, she said that many of our artists are accepting the offers and are looking forward to work with them but we should also keep in mind the respect of our country and our rich culture and its diversity.

To sum up, Pakistani artists are happy working with Bollywood people, but there are conditions also.
First of all, if both film industries work together in co-production or in a cast that will be remarkable thing. But showing only Bollywood movies is not acceptable.


i agree with shaan, reema etc. they're our a-list stars who will represent pakistan nicely!

i heard shaan got 20 lacks advance for his upcoming bollywood movie with some broad named sonali bendray. he normally gets paid 9 lacks in lollywood 4 making an entire movie!


mr charizmatic, i know that shaan gets 20 lacs per film, and that was just for last year, this year his fee has increased, most likly he gets 25 lacks now.

second highest paid is saima at 10 lacs.

and then mo rana at 5 lacs.

but humayun saeed gets much more, but doesnt make much movies u know, he been given a shower of notes by javed shiek.
i heard abt a year ago that shaan makes 9 lacks, saima 6, maummar 5, baber and most other's around 3 lacks. and judging by the state of lollywood....their rates would not increase. why would they increase their rates if all their films flopped?!
in the film magazine it said all there prices in the review of 2002, shaan was at the top with 20 lacks.