kajol has changed heself.But she can't take away credit from the slim, svelte Kajol that she has offered her fans. The fat is gone, the hair is new and there is a whole new shine to her. "Well, thank you. Know what, if there ever was something that I badly wanted, it was to lose weight. Even getting great roles was secondary," she laughs. Looking at our bemused faces, she smiles and continues, "Really, I used to watch my cousins all thin and reedy and go green. Here I was fat and stubby struggling to squeeze into anti fits while the girls would flaunt their handspan waist!"
Her hair has come in for a lot of compliments too. "Well, that's right I have gone in for a new haircut after a long season" she smiles, her soft brown eyes lighting up. "You think it suits me?" she asks running her fingers through her tresses. 'The crop is chic & refreshing', we tell her. "I don't like fiddling with my hair. I just like it to be. The idea of sticking chemicals to my hair freaks me out totally!
she says sportingly. "See, the problem is that I dislike costuming! The more natural and the more simple it is, the happier I am. I hate the makeup, hair, costume sessions. It bugs me to death!" A person who detests the greasepaint, when was the last time you like yourself on screen, we quiz. "Baazigar!" she bursts out laughing. Kajol…"Okay, seriously speaking, I liked myself in Kuch Kuch Hota Hai. I loved the saris that Manish gave me. They were simple, light and made me look thin!" she says with a glint in her eye. What about K3G, she looked like fabulous in Suraj Hua Madham "No ways! I had to carry chunks of jewelery around. Felt like killing Manish for it!" she scowls.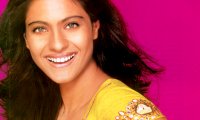 "I think I am still the best!"