MR NICE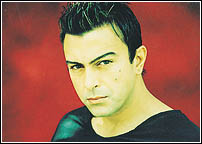 Age: 122
Total Posts: 1124
Points: 0
Location:
United Kingdom, United Kingdom

Music main strength of Reema's film
by GHULAM HUSSAIN

Lollywood star Reema Khan's film Koi Tujh SA Kahan is doing well at the box office. The movie has once again drawn the cinema goers attention. The film music is quiet enticing

No doubt Reema has struggled hard to make a worth seeing movie but if one excludes Amjad Bobby's (late) endeavour in Reema's maiden venture being a director, it turns out to be a rigid formula type story. All the songs of the film have the richness of the melodies especially the theme song of the movie. And this song is the asset of the movie.

The sudden death of Amjad Bobby is great loss for Lollywood. He was the last composer of the sequel of Khwaja Khursheed Anwar, Baba G A Chisti, A Hameed, Master Inayat Hussain, Rashid Attrey, Noshad, Master Abdullah, Rehman verma, and Nisar Bazmi. After his death there was no one who could fill the vacuum of Amjad Bobby. From his four sons only Faisal the youngest one is interested in music Amjad Bobby's younger brother Moeen Bobby is also a composer.and assisted his brother in India. Amjad was the first choice of all top producers such as Shehzad Gul,Sajjad Gul, Rasheed Khwaja, Javed Sheikh, Sayeed Noor and others for composing music of their movies. His all movies were musical hit like Shehzad Gul's "Gher Kab Aoa Gey", "Tery Pyar Mein", and "Imaan" which is under production.Sajjad Gul's Dewanne teray Pyar Ke, Syed Noor's Sangam, Sargam, Ghonghat, Rajo Ban gya Gentleman, Javed sheikh's Chief Sahib , Mujhe Jeenay Do, Yes Boss, Kahin pyar na ho jai, yeh dil aap ka huwa and this upcoming film Khuley aasman kay neechay is still in the pi[peline. Then director javed raza's upcoming film Kabhi Pyar na Karna which is also being shot in India. After the release of all these Bobby's upcoming films, the Pakistani people will be deprived off from listening the melodious urdu songs.