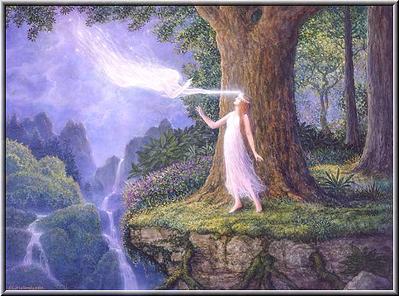 Crowned with magic, duly bless,
woodland goddess, auburn tress.
Heavenly angel come into light,
kindness instilled in halo bright.
Out of lavender woodland haze,
dawns early light, summer days.
Time to frolic and folly with fun,
spirit to guide in the rising sun.
To lead creatures small and big,
upon her head a crown of twigs.
In forest deep mid sun and rain,
reigns throughout her domain.
Blessed with powers to achieve,
dreams come true if we believe.
Immortal till earth no longer spins,
from this day forth, magic begins.