Niagara Falls in Winter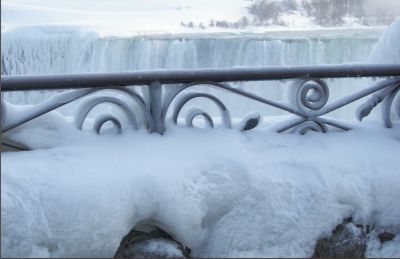 Have you ever thought of visiting Niagara Falls in winter? Naturally most people think about going to Niagara Falls Canada during the warm summer months of June, July and August. But if you wanted a totally different perspective you should try visting in the winter time.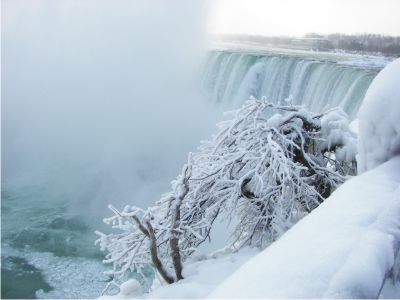 The area surrounding the falls glisten like a crystallized palace while the snow topping gives thoughts of an icing sugar coating.
The roar of the Falls that is normally heard during the summer is dampened by the freezing cold air, and the mist that rises does so in seemingly slow motion. The water down below in the Niagara River seems to protest as it is pushed down the icy Niagara River hoping to get caught in the shallow water so it can rest and turn into ice.
Everything around the Falls looks like it is frozen in time, just waiting for thoughts of spring to emerge.
Even the tourists are chased away by "Old Man Winter". I was able to take these beautiful pictures, most at the brink of the Falls with no one in sight. It was a freezing cold day (-25 degrees Celsius) but the Falls never looked more spectacular. It was as though a beautiful white blanket was keeping everything muted and still; everything that is except for the water.
And although it is so cold the Falls still flow and do not become the frozen Niagara Falls. The amount and speed of the water flowing over the Falls prevents it from becoming frozen Niagara Falls.
frozen niagara falls
So if you think you have seen all the splendor the Falls has to offer, you need to start thinking of braving the cold and visiting Niagara Falls in Winter. Bundle up and it will be a truly amazing natural experience.