sun_shine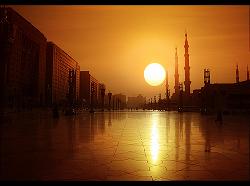 Age: 123
Total Posts: 13494
Points: 0
Location:
Afghanistan, Afghanistan
Assalam O Alaikum

*by Sumayyah bint Joan


* No two words can invoke as much hope and confidence as, "I promise." As children we are taught that promises are unbreakable pledges which cannot be defaulted on under any circumstances. But, as we grow older, the old adage of, "promises were meant to be broken,"

more often justifies the lack of commitment and follow-through placed behind these two words. Sometimes we forget that a promise, is like a pledge or a vow, and that it should be given only if we are absolutely sure that we can fulfill it.

As Muslims, our word should be our bond, and if we make promises, then we should also make sure that we keep them, for Allah says,

"...surely every promise shall be questioned about." [17:39>

How many times have we heard brothers and sisters who have just gotten married talk of the promises they have made to each other? She promises that she will always look her best when he's at home, that the house will be immaculate at all times and that she will be the model of obedience. He promises that he will help her maintain their home, help her with the children and that he will practically be the poster boy for "Great Husbands Inc."

If we revisit these very couples six-to-eight months later, we find a much different picture than the one painted only a few short months ago. We often find neither of them living up to the promises that they made, and this is usually the cause of much conflict and tension in many new marriages. Brothers and sisters, we must be careful to guard the promises we make to each other for Allah says, "whoever fulfills his promise and guards (against evil), surely Allah loves those who guard (against evil)." [3:76>

Broken promises in a marital relationship can lead to many problems.

When promises are broken, it breaks down the fragile walls of trust and confidence that must be maintained in order for the relationship to flourish. Sisters, if you promised that the dinner would be ready by the time he got home, then make sure that it is. Brothers, if you promised to cut the grass, then make sure you do that, before you go off to do something else. What may seem like a little thing to you, may be something quite big to someone else. By guarding our promises, we also guard the integrity of our relationships. This in turn fosters a more secure sense of reliability, trust and confidence, and serves to diffuse tensions and conflicts.

Allah says,

"They fulfill vows and fear a day the evil of which shall be spreading far and wide." [76:7>

Let us fulfill our vows with this fear in mind. Let us not forget that even though we are neglectful, our scribe angels are not. If a brother comes to you in the mosque and asks a favor of you, and you say yes, just because you said inshaAllah, that does not give you permission to break that verbal agreement. So many of us use inshaAllah, as a way to get out of implicit or explicit verbal agreements we have made with each other. Many of us use inshaAllah to say yes, when in our hearts we actually mean no. As Muslims, we are honour-bound to be truthful with each other, and we should always say what we mean, and mean what we say.

To no other group of individuals are broken promises more devastating, than to children. Children are like elephants, they almost never forget. If you promise a child something, they will remember that promise, even though they may not verbalize it to you. When a child knows that you are a person of your word, then it comes to trust and depend on you in a secure way. But, when a child finds out that you are not a person of your word, this can leave numerous hidden scars that can lead to a number of behavioral and disciplinary problems.

By keeping our promises to our children, we are also teaching them the importance of honour and commitment. By keeping our word to them, they will in turn learn to keep promises made to us and to their peers. As parents, we must always remember that the old saying, "do as I say, not as I do," does not work. Children model themselves after behavior, and they will always do what they see their parents doing. By keeping our promises to our children, we also reinforce in them a sense of importance and belonging, and a knowledge that their feelings count too.

Allah says,

"And whatever alms you give or (whatever) vow you vow, surely Allah knows and the unjust shall have no helper." [2:270>

So, let us then not be among the unjust. Let us be always mindful of the vows and promises we make to each other, so that through them we can tighten the bonds that hold us together.


There is no doubt that music is the soul of any occasion. In fact, it is the primary thing that adds color to an event. Without good music, you could imagine your event or party as a hectic, boring, and dull thing, especially for the guests. An
event
that lacks good music can never be enjoyed. Most people would prefer to attend such functions that have a proper
arrangement
of music. A wedding celebration is no exception at all. To make this day even more special, you should make
arrangements
for music and for this reason, you could take help from the professional wedding live band In Los
Angeles
. Here we come into the picture.
Bands for hire in los angeles | latin bands for weddings los angeles | Mariachi Band Los Angeles | Bandas en los angeles | Cumbia Bands Los Angeles | Latin Music Bands For Weddings | Bands For Weddings In California | wedding live band In Los Angeles | popular latin bands Los Angeles | Latin Bands for hire los angeles | Grupo Versatil California | Grupo Versatil In California | Grupos Versatiles En California | Grupo Musical Los Angeles | Latin Wedding Bands Los Angeles | Live Latin Band Los Angeles | Best Latin Band In Los Angeles | Latin Bands In Los Angeles | Hire Latin Wedding Bands | Latin band for marriage | Latin band for occasion | versatile latin band | professional latin band | professional versatil band | versatil band for marriage
MAKE YOUR EVENT THE TALK OF THE TOWN:
Do you want a music band that would set your wedding apart in a true sense? You've come to the right place. Divine specializes in incomparable wedding bands, which provide an alternative to the conventional live music experience. Our ultimate aim is to deliver unforgettable, as well as unique entertainment that would keep the dance floor not only full but would leave a long-lasting impression at the same time. Most Bands for Weddings in California are just carbon copies. But don't forget that you are one-of-a-kind couple hence you deserve a one-of-a-kind musical entertainment for your big day.
Our music bands regularly provide services in the Los Angeles area. We are even pleased to travel to the destination weddings, both international and national. We have performed more than 300 events and weddings that make us a more desirable choice of these days. At Divine, we ensure a one-of-a-kind entertainment experience particularly for one of the most striking days of your life.
TOP-RATED WEDDING BAND:
Divine has years of experience in the industry. Our sound experience makes us the very first call for corporate and wedding entertainment. The expertise and the attention to detail that Divine offers are unparalleled. We understand that selecting the ideal entertainment professional for the special day of your life is important for your event success. And we as a professional pride ourselves in working very closely with each client.